La Fontaine de Mars Review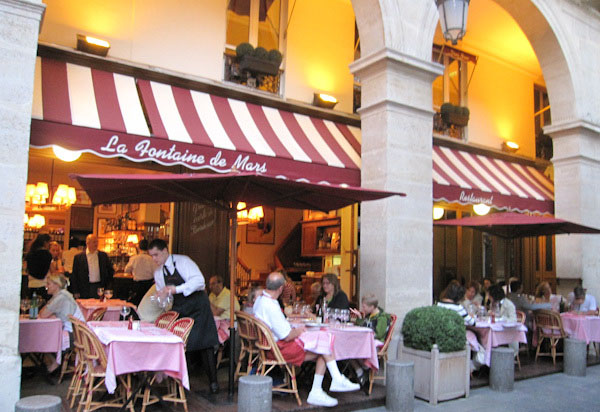 LA FONTAINE DE MARS
129 RUE SAINT DOMINIQUE, PARIS, FRANCE 75007
33.1.47.05.46.44
www.fontainedemars.com
We have been to Paris quite a few times, and La Fontaine de Mars is always one of our stops — specifically on a Sunday as they are one of few great restaurants that are open. The location is just a few steps from the Eiffel Tower, meaning that you are likely to stumble onto some tourists. However, we have also noticed several local regulars dining at the restaurant.
Some folks complain about it being hard to get in. However, that is simply not so if you follow the common courtesy (to them) and obtaining peace of mind (for you) by making a reservation in advance.
Service may seem a little rushed when compared to other Parisian dining establishments, but that's usually only occurred when it was crowded. If you're looking for less crowd and less rushed service, opt for an earlier seating – 11:00 for lunch or 6:00 for dinner are recommended. Whether rushed or not, the service is ALWAYS friendly.
On this trip, we were with my son who is a vegetarian – typically tough to accommodate in French restaurants, but becoming more and more accommodating each day. We informed our waitress (who was SUPER friendly and had a great sense of humor), and she had the chef prepare a special plate of fresh vegetables – an assortment of all vegetarian options from the menu. That was truly special and something I have NEVER seen in Paris.
The food is fantastic bistro-esque, but many notches above the standard Parisian bistro. We have had the coq-au-vin, the roasted chicken, the foie gras, and a little of everything else on the menu. Our suggestions are to have at least one bottle of the house red – it is not made in house, but it is made by the Domaine Rotier vineyard and labeled specifically for La Fontaine, always opt for at least one thing on the daily special – not the daily special on the menu, but something on the daily chalk board that will be presented shortly after you are seated, and order at least one of their stellar potato dishes (my favorite is the Gratin Dauphinois – a rich, cheesy, bite of heaven).
The price can be on the high side if you go hungry and elect to order all 3 of a starter, main, and dessert. However, the price can be reasonable if you order smartly. You are in Paris after all, and you are in a quality Parisian Bistro – anything that is high quality is going to cost a few euro. Do the research ahead of time and know exactly what you are going to do beforehand.
We will be back again for sure if and when we find ourselves back in Paris.