Satellite Bistro & Bar Review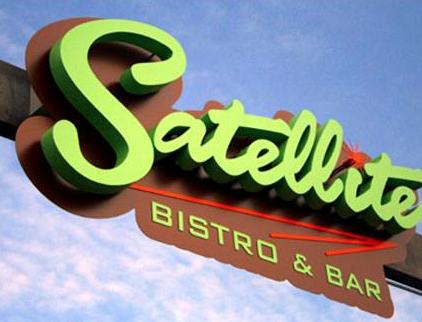 SATELLITE BISTRO & BAR
5900 SLAUGHTER LANE, AUSTIN TX 78749
512.288.9994
www.satellitebistroandbar.com
A South Austin delight…
This spacious, well designed restaurant is a visual walk down memory lane. Turquoise booths, a retro bar complete with space needle light fixtures – a classy nod to the 1960's and George Jetson and his boy Elroy! But…that's where the 1960's end at Satellite Bistro & Bar. There are certainly no cheese whiz appetizers, Jell-O molds, or Chicken a 'la King served here.
Satellite Bistro & Bar serves American favorites with a contemporary spin, and local fresh and savory plates are always in orbit! The bistro provides the service of a fine French restaurant (without any pretentious attitude). The Kamburis brothers did not neglect a single detail at this fine establishment. Don't miss out on creative craft cocktails, a diverse wine list, and plenty of local and craft brews on tap. Here is a sampling of what my group of friends ordered on my visit last month:
Diver scallops cooked to perfection, with heavenly subtle saffron-infused sauce. Fresh, and fabulous.
French Pork Chops with a red wine reduction glaze served with garlic mashed potatoes. All you carnivores will be craving this again and again.
Stacked Chicken Enchiladas for those that need to get a Tex-Mex fix. Bring on the Verde sauce and spice!
I'm not a Mad Men "I'll have my martini shaken not stirred" kind of gal, but signature martinis have my name (and my friends' names) all over them! Tito's Hand Made Vodka – distilled in Austin (in the first legal distillery in Texas for you trivia lovers) – is the perfect choice for the Lemon Drop. The Mojitos Martini is a refreshing blast of mint, perfect on one of many hot Texas days.